The cost of food crisis and the Kingstrust Christmas hampers
Every year since 2013 Kingstrust have been providing Christmas hampers to the poor people of the coastal communities of East Yorkshire. Each year we provide around 125 generous hampers for families in real need. These families are identified to us by local children's centres, schools, social services and other partner charities.
This year the demand is higher than ever but then so are the costs!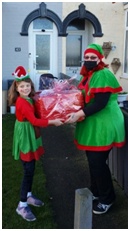 We need your help to make our funds stretch far enough, we can't do it alone this year; it's a stretch too far! Can you help us meet the need?
You can donate online here at Stewardship.org where you can gift aid your donation.
Food inflation is presently running at 14.6% and on top of this the cost of cooking the Gateway Gourmet food we supply in the hampers has sky-rocketed with the increased cost of fuel
Or you can donate to Kingstrust via PayPal:
Or you can send money by BACS online to: HSBC 40-25-49 A/C 10214019 (please add reference: Hampers)
Or you can write a cheque to "Kingstrust Network" and post it to me:
The Treasurer
Kingstrust Network CIO
23 Holyrood Avenue
Bridlington
YO15 2EA

Thank you so much! Tim Jarvis (treasurer).